Scotland aiming for life sciences lead.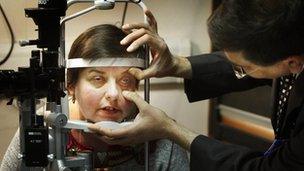 A Scots firm is pioneering a possible cure for corneal blindness
Scotland is set to become a world leader in innovative health technology, according to the health secretary.
Nicola Sturgeon will make the prediction at an NHS Scotland conference later on Friday.
She is due to say that pioneering developments will dramatically improve healthcare for patients and potentially save lives.
The Scottish government wants to double the economic contribution of life sciences to £6bn by 2020.
Speaking at the NHS Scotland event, Delivering Quality Through Innovation, Ms Sturgeon will outline a new vision for Scotland to be at the forefront of innovation in health.
She will say that Scottish scientists and businesses are already leading the way in medical innovation.
Recent developments include a stem cell treatment which could potentially reverse corneal blindness and a treatment for diabetics which reduces dependence on insulin.
Increased investment in technology will also enable more people to be cared for at home rather than in hospital, Ms Sturgeon will add.
Ms Sturgeon said: "Many of the greatest advances in the history of medicine come from Scotland and we are already at the forefront in many areas of clinical and health research.
"Continued investment in this area has the potential to lead to groundbreaking medical breakthroughs which could benefit patients both in Scotland and across the globe.
"This statement is hugely significant for Scottish industry. It presents our innovative companies with a fantastic opportunity to work closely with the NHS to develop products and services that will benefit patients and the Scottish economy.
"I look forward to working with public and private sector partners to bring the ambitions of this statement to life for Scotland's innovators, entrepreneurs and business owners."
'Win-win situation'
Dr John Brown, chairman of the Scottish Life Sciences Association, said: "Our members from across the life sciences sector in Scotland understand the importance of the NHS as a driver of health innovation, as well as a market for their products.
"We very much welcome the commitment which the government has made today to set up Health Innovation Partnerships between life sciences businesses and the NHS in Scotland, and to have them up and running by the beginning of next year.
"We will play our part in encouraging our 100 member companies to take this opportunity to develop products and services which meet NHS needs for innovation – it is a classic win-win situation."
Stephen Whitehead, chief executive officer of the Association of the British Pharmaceutical Industry, said: "Scotland is in an excellent position because of its skilled workforce and excellent patient record system to attract investment in research."
Creative Commons Disclosure
This news story was published by BBC. Click here to read the original article. 
Why choose LearnPac E-Learning courses?
LearnPac Systems is a leading UK provider of accredited online training courses, programmes and qualifications including the following categories:
LearnPac Systems is a leading UK provider of accredited online training courses, programmes and qualifications. Contact our Support Team on 024 7610 0090 or via Email to discuss your online training requirements.
Scotland aiming for life sciences lead.