'Youth violence should be seen as a health issue'.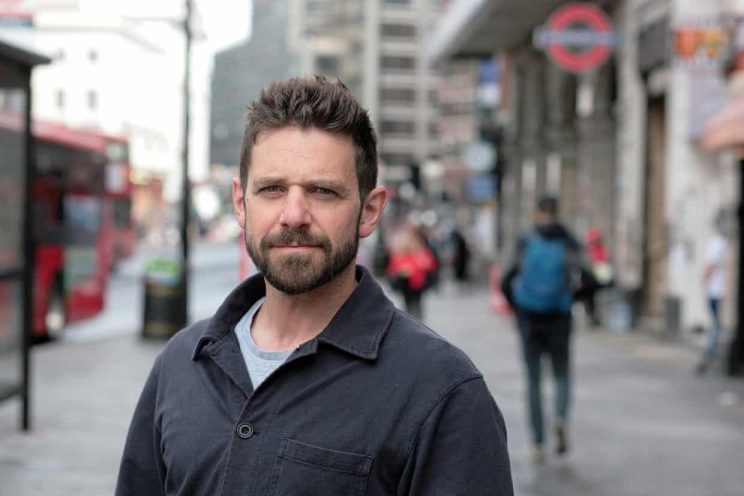 Photograph: Martin Godwin/The Guardian
When John Poyton was working as a youth counsellor in south London, a young man turned up to his appointment wearing a thick, hooded top on a hot day. "I asked him why he still had his hoodie on and he told me: 'I always wear this because it hides my stab vest'," Poyton recalls.
The young man, who had already spent time in a young offender institution, and had turned to Poyton to try to turn his life around, said the short walk from the local estate was extremely dangerous. "This was a person who had been written off as an angry young man by a lot of society, and professionals, and actually he was a scared child," says Poyton, now chief executive of the youth charity, Redthread.
It was this awareness that young, at-risk people can experience many barriers to accessing healthcare, counselling and other forms of support that has driven Poyton, 45, in his career in youth work. Inspired by his own teenage years working on church residential summer camps for children in the UK, Poyton became a professional youth worker after stints at a local benefits office and assisting in a school. His mother, a nurse, and father, a lay minister, also instilled in him an interest in "humanity and society". His "epiphany moment" came, he says, when he joined Redthread in 2002 and set up a young people's drop-in health clinic at a GP practice.
"I questioned how easy it was going to be to do good relational youth work in a health context … it sounded like it was going to be a bit clinical," he says, explaining that he shared a consulting room with the local midwives. But he was soon convinced that the drop-in clinic was, in fact, the perfect place to reach and help the most difficult-to-engage young people with both their health and wider problems such as involvement in violence or teenage pregnancy.
"They might present about their spots but actually there was a conversation there about their self-harm or their substance misuse."
Redthread was established in 1995 by churchgoers in Dulwich, south London. In 2009, Poyton was appointed to lead the organisation, and, between 2014 and 2018, it grew from 10 members of staff and a turnover of £150,000 to 60 staff and a turnover of £1.5m. The charity now helps more than 2,000 young people a year, and is best known for its unique work embedding youth workers in hospital major trauma centres and emergency departments where they support young people who have been victims of violence.
Figures provided by around half of English hospitals showed that more than 4,500 11- to 25-year-olds attended A&E in 2018 after an assault by a knife or other weapon. Redthread believes that targeting difficult-to-engage young people at a point of crisis in their lives – when they have been seriously injured provides a "teachable moment" when they are most likely to be receptive to advice and support. Its own evaluation of its youth violence intervention programme (YVIP) in 2017-18, found that 57% of young people had reduced involvement with violence after working with the charity.
The YVIP now operates across three of the capital's major trauma centre hospitals; an A&E in Hackney, east London; and it commissions the St Giles Trust charity to deliver a similar scheme at the Royal London hospital.
And a three-year pilot, supported by the government's serious violence strategy, is bringing the model to three hospitals in Birmingham and Nottingham. Yet Poyton is keen to stress that "violence is a health issue". He describes Redthread as a health charity, not a "gangs, violence and knife crime organisation".
"The reason we've scaled the work around violence is because violence is a health issue that doesn't already have other referral pathwaysor other support mechanisms in place," he says.
Asked what he thinks of the government's strategy to tackle serious violence, Poyton replies: "The criminal justice system or the policing system has recognised for quite some time that they can't arrest their way out of the problem … that actually this is not just about gangs and criminality, it's about safeguarding the vulnerable," he says. He welcomes the pledge from the home secretary, Sajid Javid, to follow the successful Scottish approach that treats serious violence as primarily a public health issue, not a crime, as he thinks it will help to break down funding silos between the NHS, the police and other services. "It's a good framework as it brings people together to think outside of the box," he says.
Poyton wants Redthread's YVIP model to be in GP practices, A&Es and all of England's major trauma centres. "We ought to be meeting that young person the first time they come through the emergency department," he says.
Although he believes the NHS is "amazing", he feels young people are being let down by it. Because medical training is focused on babies, children and adults, adolescents, he says, have specific needs that are not being met.
Redthread runs an adolescent outreach service from King's College hospital in south-east London, which aims to improve the care of teenagers in hospital.
Poyton says: "An awful lot more work done needs to be done to create equity in the health system for young people."
Creative Commons Disclosure
This article was published by the The Guardian. Click here to read the original article.
Why choose LearnPac E-Learning courses?
LearnPac Systems is a leading UK provider of accredited online training courses, programmes and qualifications including the following categories:
Contact our Support Team on 024 7610 0090 or via Email to discuss your online training requirements.
'

Youth violence should be seen as a health issue'.