Doubts over use of UK's Nightingale hospitals for vaccine rollout.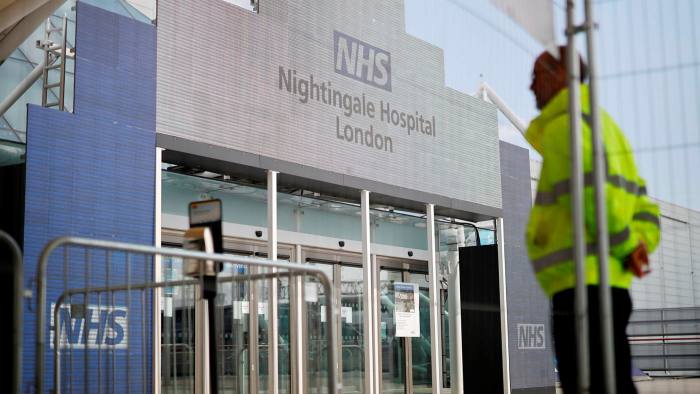 The Nightingale hospital in east London was barely used at the height of the UK's first wave of the Covid-19 pandemic © Tolga Akmen/AFP
Government plans to use the UK's Nightingale hospitals as mass vaccination centres have been greeted with scepticism by medical professionals, who believe local doctors should lead the administration of the vaccines. Following last week's breakthrough from Pfizer and BioNTech, health secretary Matt Hancock repeated on Monday that the NHS would be ready to rollout its vaccination programme from December 1. The UK has agreed to buy 40m doses of the Pfizer-BioNTech vaccine, which has been found to be 90 per cent effective in tackling Covid-19. The idea of using the Nightingales in the Covid vaccination effort was recently floated by Simon Stevens, NHS chief executive, and later by Downing Street. According to people familiar with the discussions, London's Nightingale hospital, barely used at the height of the pandemic, is one of the emergency field hospitals being considered for use during the vaccination rollout. One person familiar with the idea said it would offer the chance to soften criticism about the large sums of money so far spent on the facility in London's docklands area. But at local level the plan to use the Nightingales was seen as the latest in a series of eye-catching central pronouncements that have caused irritation because they are viewed as raising public expectations that cannot easily be met. One senior health figure said the idea of using the London Nightingale had gone down badly with some in the NHS, due not only to worries about how it would be staffed but a belief that many may find its location in east London tricky to reach. NHS London said: "The Nightingale hospital in London remains on standby ready to quickly stand-up and provide additional capacity to support local services if necessary." A similar scepticism about the accessibility of the Nightingales was expressed by leaders around the country. David Loughton, chief executive of the Royal Wolverhampton NHS Trust, said there would be an announcement this week about how people were to receive the vaccine. However, the Nightingale in Birmingham was not the best place to deliver vaccinations, he said.  "It has got to be very local to the population to make it accessible so that we get the maximum uptake," he added. Ian Ward, leader of Birmingham city council, said that if the government interfered too much it would fuel anti-vaccine sentiment and argued public trust in the NHS meant the health service should take the lead. "Most of the population have got confidence in their GP so you can reasonably expect an awful lot to be delivered by primary care," he added. In Yorkshire, meanwhile, the Harrogate Nightingale, more than 15 miles from the big cities of Leeds and Bradford on single carriageway roads, is viewed as too inaccessible for the task. The Leeds Direct arena is one alternative being looked at. But an official said: "The mass centres are eye catching but the way it will be rolled out quickest is a hyper local approach via GPs and local communities." Similar doubts about the suitability of the Nightingales were voiced in Wales, where health minister Vaughan Gething said the idea made for interesting headlines "but practically it does not make a lot of sense". While shortages of specialist intensive care staff had hampered their use for Covid care in the first wave, vaccination clinics would call for "much more of a generalist staff", said Martin Marshall, chair of the Royal College of General Practitioners. This could include GP locums, early retirees and a range of other professionals such as community nurses and pharmacists. Recommended Anjana Ahuja Should the old or the young be vaccinated first? But Prof Marshall queried the point of setting up such a "parallel track", pointing out that GPs and their practice teams were adept at administering annual mass flu vaccination programmes. In parts of the NHS, too, there is frustration at a lack of clarity from the government about the rollout plan that, for the highest risk groups, could be needed in as little as four weeks if emergency regulatory approval is granted. On Monday 1,000 healthcare workers wrote to Mr Hancock demanding a blueprint. GPs believe they may be asked to administer up to 1m vaccinations a week, but must decide by Tuesday whether to take part. They have also been told they might have to cut back on other patient services to do so, according to EveryDoctor, a pressure group behind the letter. Siema Iqbal, a Manchester GP and EveryDoctor advisory team member, said: "The impact on primary care services if this is not managed well could be catastrophic."
Creative Commons Disclosure
This news story was published by Financial Times. Click here to read the original article.
Why choose LearnPac E-Learning courses?
LearnPac Systems is a leading UK provider of accredited online training courses, programmes and qualifications including the following categories:
LearnPac Systems is a leading UK provider of accredited online training courses, programmes and qualifications. Contact our Support Team on 024 7610 0090 or via Email to discuss your online training requirements.
Doubts over use of UK's Nightingale hospitals for vaccine rollout.