Covid-19: 'A lot of people think this lockdown is unfair'.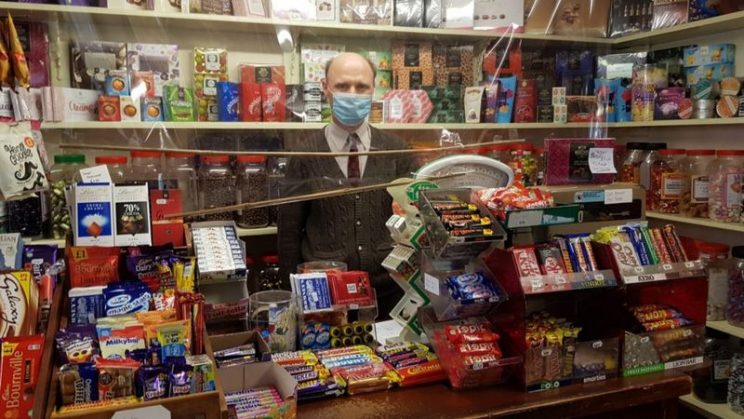 Colin Page, who runs C D Page Tobacconist and Sweet Shop, said most of the people he had spoken to seemed "resigned" to the second lockdown
North Norfolk has one of the lowest coronavirus infection rates in the country, with a total of 25 cases reported in the most recent week for which data is available. What do the residents and businesses there make of being plunged into a second national lockdown from Thursday?
"I think it is a shame for us around here because we don't have that many cases," says tobacconist and sweet shop owner Colin Page.
His North Walsham shop remained open throughout the first lockdown and he plans to remain open throughout the second.
Mr Page feels the second lockdown was "inevitable given the rise in cases".
Across England, the most recent weekly figures are 202 cases per 100,000 people. In north Norfolk, the rate is 40.1 per 100,000.
"We stayed open all the way through the first lockdown but there was definitely less trade and fewer people about," he says. "Hopefully this time it will not be so bad.
"It seems busier today – I think people are stocking up on things."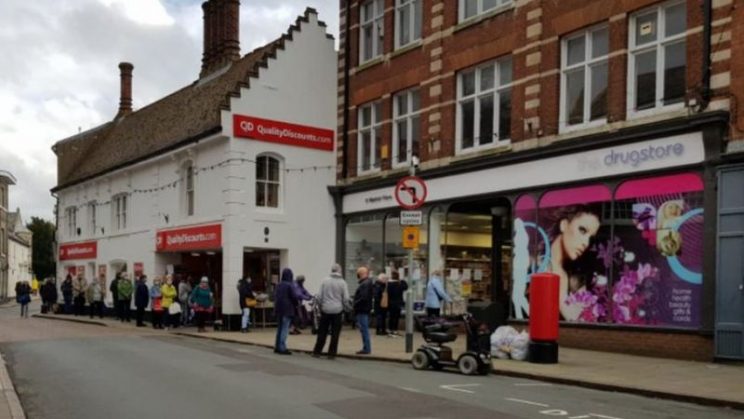 People reported that North Walsham seemed 'busier' on Monday morning
By mid-morning on Monday, queues had formed outside some stores in the town.
A few doors down the road from Mr Page, 70-year-old Jennifer emerges from the Showcase Gallery with a gift for her son.
She has lived in North Walsham for the past 15 years but had not stepped out into the market town, which sits near both the Norfolk Broads and the coast, for quite some time.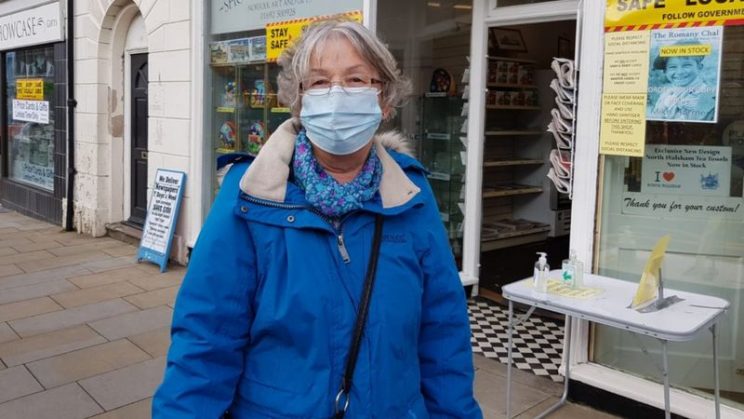 North Walsham resident Jennifer says it was a "worrying time" for everybody but voiced her appreciation for the town being "sensible"
"It is busier than I expected," she says. "It is quite frightening to actually try to socialise outside but everybody seems to be sensible and keeping their distance with masks.
"It is a worrying time but I think it is the best thing to do for four weeks to try to nip it in the bud."
Asked about the second lockdown, she says she feels it is "fair for everybody to do the same thing" but adds: "Lockdown the first time was very hard. Not to cuddle your grandchildren is very, very hard. I'm quite a positive person but it is hard for everybody."Barbara Pawsey said many people in North Walsham felt the second lockdown in North Norfolk was "unfair" because of the low infection rates in the area
Barbara Pawsey, at the Cherished charity shop, says "obviously" the second lockdown would not be good for their charity because they will still have to pay overhead costs.
"There are a lot of people who think it is unfair," she says. "But we've just got to do it."
She says Christmas decorations are selling fast in the shop so far this week as people stock up in advance of the lockdown.Bob White said North Walsham had faced tough trading conditions in 2020, aside from Covid-19 restrictions
Bob White, who owns the Showcase Gallery, Gift Shop and Newsagents, says North Walsham has experienced a very difficult year.
It began, he says, in January with major gas works in the town which caused "real problems as there was no traffic allowed in the market place".
"We were just about out of the gas works when Covid hit. And that really did make us wonder what next was going to happen.
"It decimated the town. There was nobody out and about anywhere in the town. It was not really worth any of the shops opening."
He tells how there were further issues in the town when a decision was made to ban parking in the town in an effort to control the spread of coronavirus.
"The last thing we wanted was four weeks more [of lockdown]," he says. "Local people should do what they can to support local businesses."Debbie Sambrook and her granddaughter Apple Kemp make regular use of the town's library
The town's library was doing swift business on Monday.
Debbie Sambrook and her granddaughter Apple Kemp had been into the library to take out a number of books because Apple is being home educated.
"It was hard but it was needed," says Mrs Sambrook of the first lockdown. "We were isolating because my husband has disabilities.
"It was the silly things you miss, like my son not being able to visit or hugging the grandchildren. That's what you miss rather than going to the shops and so on."
She says she "could not quite get her around" why Norfolk was subject to the second lockdown.
"I can understand it in areas where cases are high, but I don't quite understand the whole country-wide bit. But if they say it is needed then we will just have to go with it. What can you do?"
Apple says the next lockdown would be "hard" educationally because her grandmother sets her work.
"It will be hard not seeing her for a while," says Apple.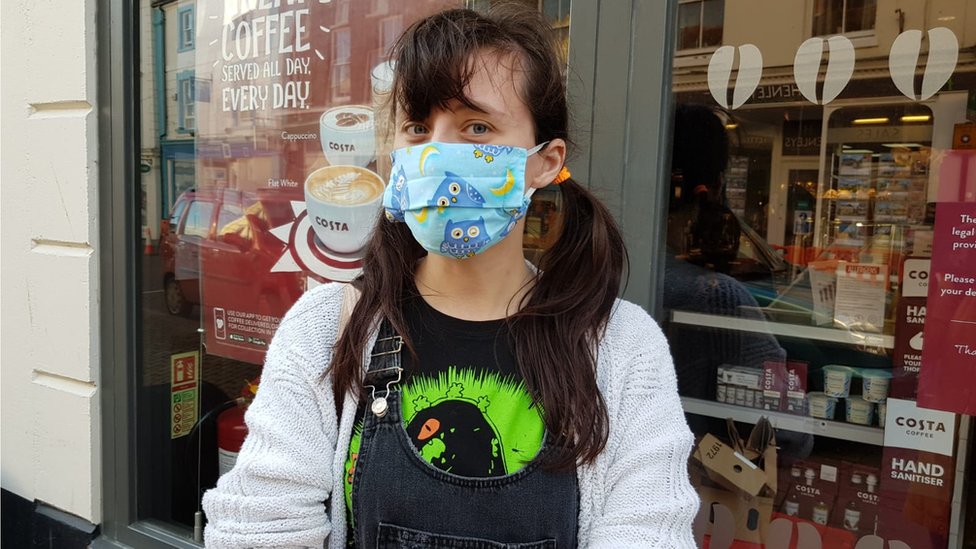 Freelance model Gemma Smith has had a few photographers cancel bookings
The pair plan to stay in touch – and set and complete studying assignments – during lockdown using an online messaging application.
Freelance model Gemma Smith, 31, was hit hard financially during the first lockdown when her earnings roughly halved.
"I was pretty miffed about the lockdown, though I did understand it and went along with all of the rules," she says.
"From what I can tell, people here feel similarly miffed about another lockdown and the disruption to normality.
"I'm most worried about the financial side this time around and that the government won't help. I'm worried about what will happen. I've already had a couple of photographers cancel and say they will have to see me in the new year.