Coronavirus: Robin Swann says 13 deaths 'heartbreaking'.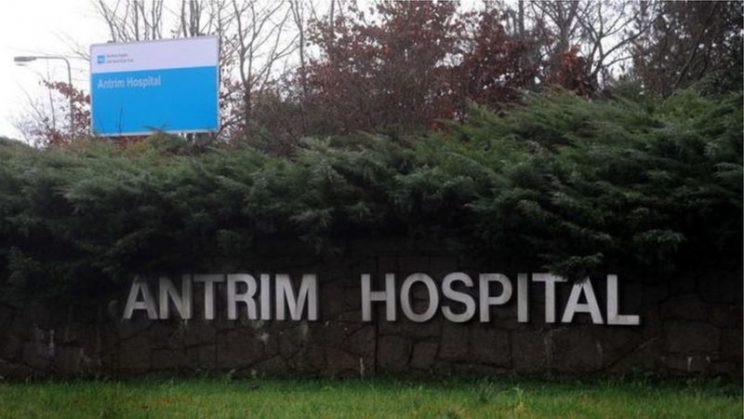 GETTY/CHARLES MCQUILLAN
The number of admissions has risen by five since Monday at Antrim Area Hospital
Health Minister Robin Swann has said it is "heartbreaking" that Northern Ireland has recorded 13 Covid-related deaths in the past 24 hours.
It is the highest daily figure of virus-related deaths since May.
It brings the total number of Covid-related deaths in NI recorded by the Department of Health to 671.
A further 722 people tested positive for Covid-19 in Northern Ireland in the most recent reporting period.
Across Northern Ireland's hospitals, there are 360 in patients who have tested positive for Covid-19, including 38 in intensive care.
Mr Swann called on people to "dig in", and follow the regulations and the advice from the NI Executive.
"I never thought we would go back to seeing deaths in double figures, that's where we were back in May, but unfortunately we are where we now see those," he said.
The health minister said that areas such as the Derry and Strabane District Council area, which have had local restrictions in place for weeks now, had seen "significant decreases" in positive cases.
He said that Northern Ireland as a whole, which has had tighter restrictions in place for a week and a half, is also seeing a small decrease in positive cases.
"While we're seeing a decrease in the positive cases at the minute, it will take a few weeks for that decrease to work through to our hospitalisations and to ICUs."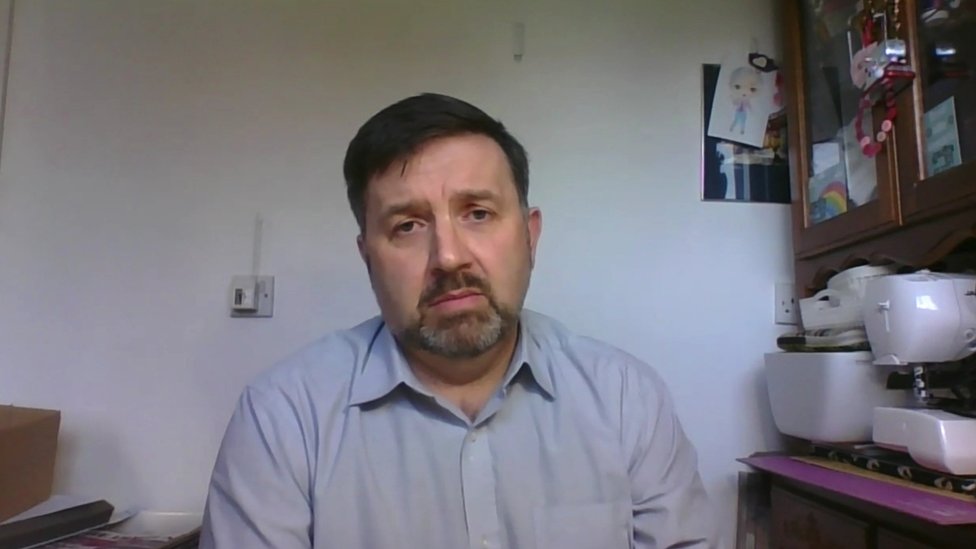 Robyn Swann called on people to "dig in" and follow guidelines
Speaking to BBC Newsline, Mr Swann also said anyone who believes Covid is a hoax should "just stay in the house, stay out of the road".
"Talk to a nurse, talk to a doctor, talk to a hospital porter, talk to someone who is currently working across our health service, even in a care home to see the reality of what Covid means," he added.
"If they think this is some sort of great hoax that is being manipulated across the world, never mind here in Northern Ireland, they're deluded."
Hospital capacity
It comes as demand for space in hospitals across the country increases, with some health trusts asking patients to stay away from hospital emergency departments.
Causeway Hospital Emergency Department is currently "under significant pressure" with 24 patients awaiting admission to the main hospital on Tuesday, the Northern Health Trust has said.
Patients have been asked by the trust not to attend either hospital's emergency departments unless they require urgent medical care.
The trust's director of operations confirmed that a number of hospitals are "under pressure".
Wendy Magowan said that 180-200 staff are self-isolating across the trust.
"This morning, we are sadly coming into a similar picture [as of Monday]," she said.
"There's 35 [waiting for general admission] but 33 of those are waiting for beds so they're managing at the moment but as ambulances and referrals start to build the situation is likely to repeat again."
'Real risk'
The chair of the British Medical Association (BMA) in Northern Ireland said there is "a real risk" of health services being overwhelmed in the next few weeks.
On Monday, the Department of Health in Northern Ireland reported a higher daily number of Covid hospital inpatients, at 342, than the previous 8 April peak, when the number hit 322.
Ms Magowan said that if there had been the same number of patients waiting for admission this time last year it "would've been awful but Covid has completely complicated that".


Analysis
By Louise Cullen, BBC News NI health reporter
Beds are easy, it's the staffing of those beds that poses the challenge.
When I spoke to an intensive care doctor last week he said if anybody needs intensive care they will get it, they may just not get it at the hospital they have arrived at, because those critical care beds can be scaled up in the surge plans so that people will be able to be cared for.
We're about to enter the ninth month of this pandemic, we've nearly 35,000 people testing positive in Northern Ireland and almost 20% of them are in the last week, so that is ramping up and the increased community transmission will inevitably translate into increased demand for hospital care and hospital admissions.
That seems to be what we are seeing.
It's not just challenged here and now, it's how those challenges are going to manifest over the winter months with the usual winter pressures coming as well.


'Covid complications'
The Northern Trust's director of operations said that the trust was seeing a "normal increase in respiratory illnesses but with Covid on top of that, it does make it more complicated".
"This time last year, if we had 27 patients waiting for admission, we could've courted those patients, risk assessed them and safely kept ED moving, but now those patients have to be isolated until they can safely be put into a Covid or non-Covid pathway in the hospital," said Ms Magowan.
"We are seeing a rise in the number of respiratory admissions but we are certainly seeing a rise in Covid admissions too."
Ms Magowan said that there were 59 patients being treated for Covid-19 across the trust on Monday, a rise from 39 on Friday.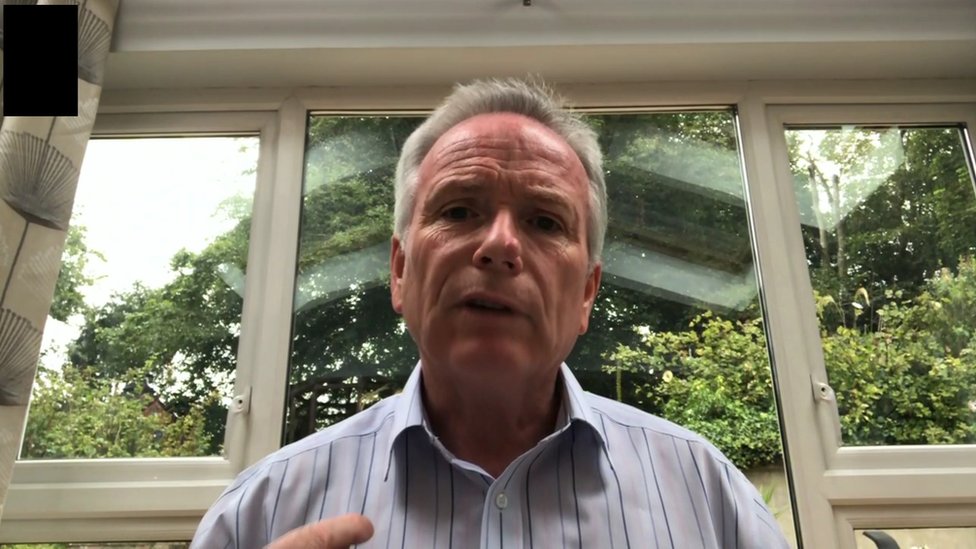 Dr Tom Black said that hospitals are facing additional pressures coming into the winter months
"Because yesterday we were working at 113% capacity, it is literally one patient in, one patient out," she said.
"It makes things very difficult. Discharging has its own complications, particularly in cases where patients need extra support because we have to follow Covid guidelines."
'This second wave seems to be much worse'
But Dr Black told BBC Radio Foyle that Monday's rising number of hospital admissions shows that hospitals in Northern Ireland are now operating at full capacity and a "triple whammy" of rising cases, lack of available staff, and threat of further winter pressures will cause additional problems.
"This second wave seems to be much worse than the first wave," he said.
"We're not seeing the same mortality because the doctors have become very good at keeping people alive with the use of steroids and other drugs, but the concern that we have is does the health service become overwhelmed?
"GPs have been under a lot of pressure over the last six, seven eight weeks. Now it is the turn of emergency departments.
"They are under fierce pressure, general medical wards are under fierce pressure and, as I say, it's not just about having the number of beds, but it's having the number of staff."
On Tuesday, the Republic of Ireland reported 720 new cases of the virus and five further Covid-related deaths.
Creative Commons Disclosure
This news story was published by BBC News. Click here to read the original article.
Why choose LearnPac E-Learning courses?
LearnPac Systems is a leading UK provider of accredited online training courses, programmes and qualifications including the following categories:
LearnPac Systems is a leading UK provider of accredited online training courses, programmes and qualifications. Contact our Support Team on 024 7610 0090 or via Email to discuss your online training requirements.
Coronavirus: Robin Swann says 13 deaths 'heartbreaking'.