Covid: Wales' lockdown supermarket rules to be reviewed.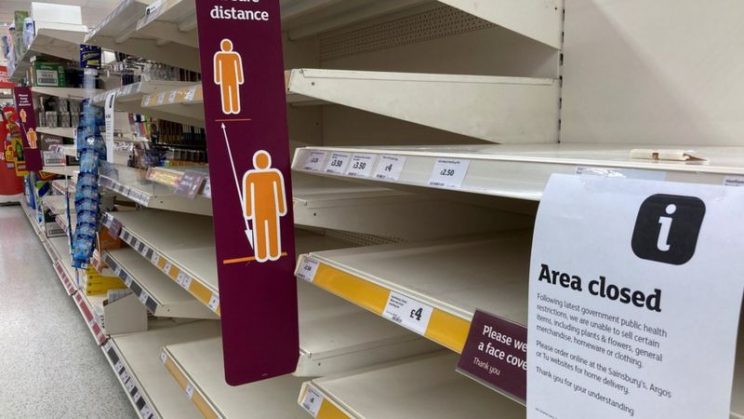 REUTERS
A ban on supermarkets selling non-essential items during Wales' lockdown will be reviewed after the weekend, First Minister Mark Drakeford has said.
Pressure has mounted on the Welsh Government to reverse the decision to prohibit supermarkets from selling items such as clothes and microwaves.
Mr Drakeford said the Welsh Government was ensuring "common sense is applied".


The Welsh Conservative leader Paul Davies had earlier called for the Senedd/Welsh Parliament to be recalled for an urgent debate on the matter.
Wales' firebreak lockdown is in place until Monday 9 November.
It came as the UK recorded 174 more deaths and 23,012 new confirmed cases on Saturday.
'An inconvenience'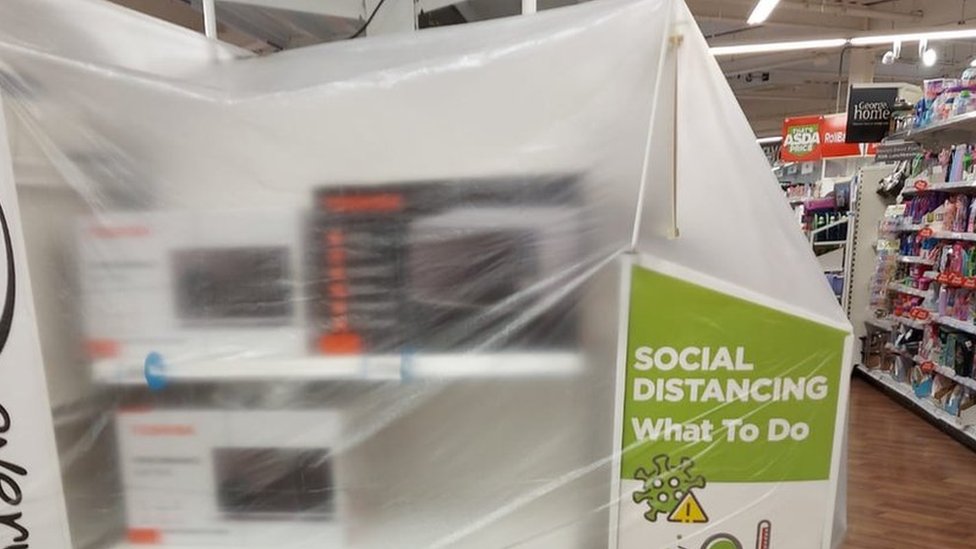 image caption
Plastic has been seen over goods in supermarkets including clothes, microwaves and cat baskets
Jodi Merry, from Rhondda Cynon Taf, said the ban has come at an awkward time as she was planning to buy new clothes for her eight-year-old son after she gets paid next week.
"It's just an inconvenience," she said.
"My eight-year-old is tall for his age and getting clothes for him is hard enough as it is. I can't just go online and order stuff. I know we can't try clothes on in the shop but I can at least gauge whether it will fit him by holding it up to him.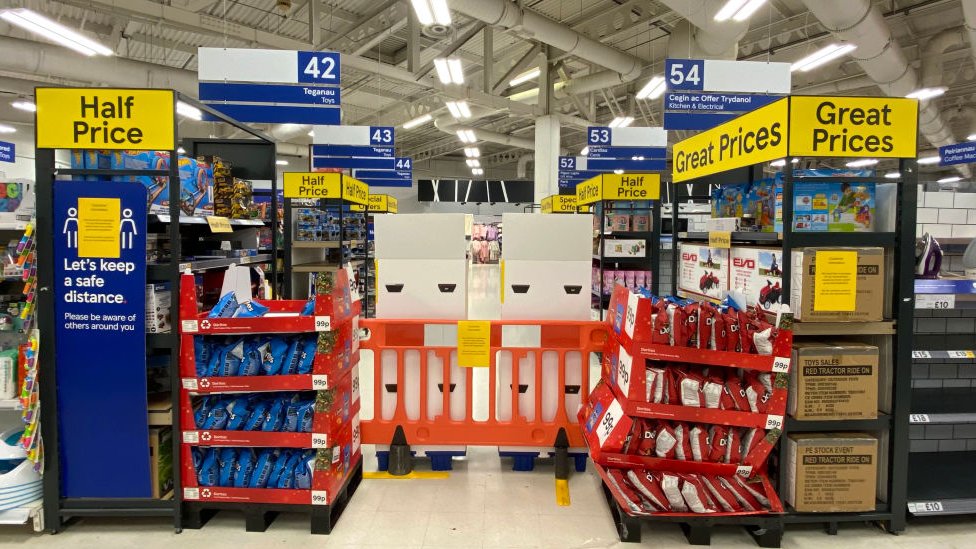 IMAGE COPYRIGHTGETTY IMAGES
The toy aisle at Tesco on Western Avenue in Cardiff has been blocked off – the sales ban also applies to clothing
"I know it's only two weeks, and we're a lot better off than others, but the fact of the matter is, he doesn't have any winter pyjamas at the moment and with payday, in a few days I would have got some.
"Everything is essential when it's something you desperately need and nobody should be controlling what you can and can't buy in the supermarket. At the end of the day, clothing, shoes and even bedding are definitely essentials."
The move has also led to some confusion over what supermarkets can and cannot sell.
Earlier on Saturday, the Welsh Government tweeted to say: "Supermarkets can keep selling items you can find in other essential shops – such as stationery/greeting cards.
"The purpose of selling essential items only during firebreak is to discourage spending more time than necessary in shops and to be fair to retailers who have to close."
It continued: "This is not for the sake of being difficult – we need to do everything we can to minimise the time we spend outside our homes. This will help save lives and protect the NHS."
In a statement, the Welsh Government added: "The fire-break is designed to reduce all physical contact between households to an absolute minimum in order to slow the spread of coronavirus and save lives.
"We have a small window in which to take this action and there are no easy choices. However, we fully recognise the impact the fire-break will have on businesses and are making a further £300 million available to support them through this difficult period."
'Absolute madness'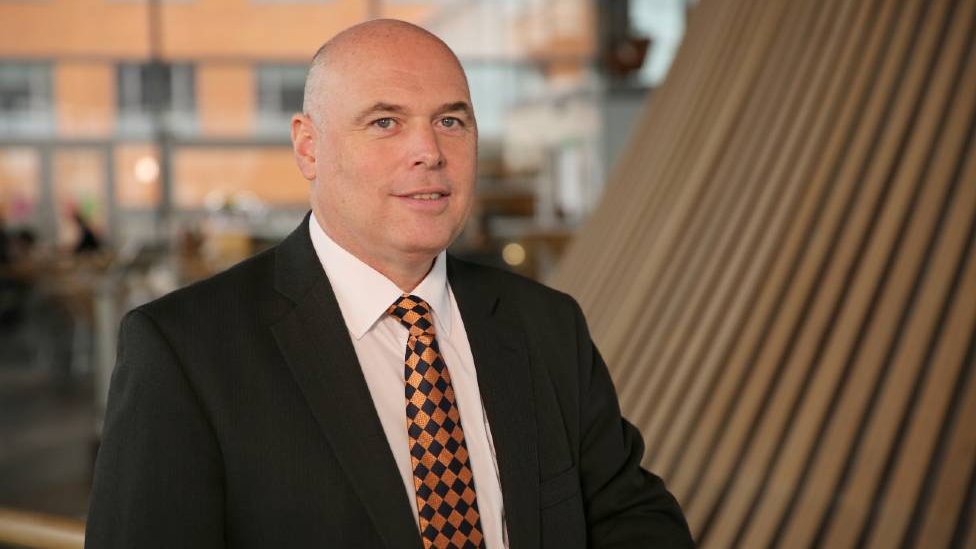 image caption
Welsh Conservative leader Paul Davies has called for an urgent debate in the Senedd
In calling for the return of the Senedd/Welsh Parliament, Welsh Conservative leader Paul Davies said: "People are concerned at being prevented from buying products such as books, bins, baby clothes in local shops and this is forcing them to purchase online or to make extra journeys to multiple shops searching for them."
He added that members of the Senedd should be able to discuss the matter virtually.
Mr Davies said: "This is absolute madness by the Welsh Government, preventing people from buying the products which they want to buy.
"What we want to see is the Welsh Government scrapping this measure and that's why I've actually written to the presiding officer requesting an urgent meeting of the Senedd in order to resolve this issue as soon as possible."
The presiding officer has been approached for comment.
Previous large petitions related to the proposed closure of the A&E department at Withybush Hospital in Pembrokeshire (40,045), a call to teach black history in Welsh schools (34,736) and for 2020 exam grades to be awarded via teacher assessments (28,505).
Creative Commons Disclosure
This news story was published by BBC News. Click here to read the original article.
Why choose LearnPac E-Learning courses?
LearnPac Systems is a leading UK provider of accredited online training courses, programmes and qualifications including the following categories:
LearnPac Systems is a leading UK provider of accredited online training courses, programmes and qualifications. Contact our Support Team on 024 7610 0090 or via Email to discuss your online training requirements.
Covid: Wales' lockdown supermarket rules to be reviewed.