Coronavirus: Evidence behind NI's Covid-19 response published.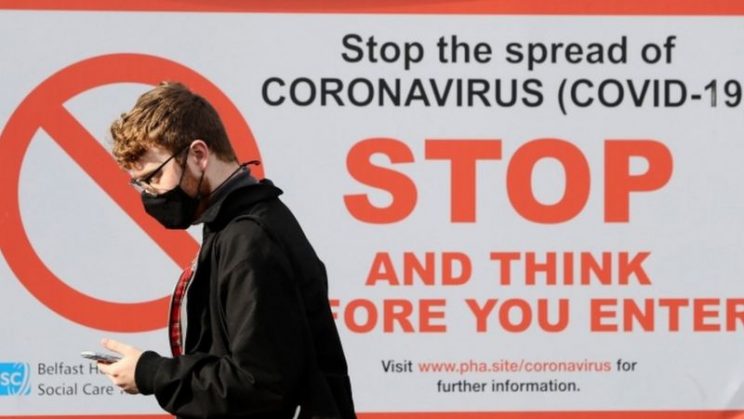 PA MEDIA
The Department of Health has made public the evidence used to inform its decisions on managing the Covid-19 pandemic.
The evidence includes the executive's paper on "non-pharmaceutical options for reducing the risk of Covid-19".
It assesses the effectiveness behind measures on travel, personal contacts and education.
The paper also outlines reasons for the four-week lockdown currently in place in Northern Ireland.
This has seen the closure of hospitality businesses, with pubs and restaurants limited to takeaway only.
The paper says the closure could have a moderate impact on the transmission of the virus, with a potential reduction in the R rate of transmission of between 0.1 and 0.2.
It says curfews are "likely to have a marginal impact".
Included in the documents are papers from the government's Scientific Advisory Group for Emergencies, slides presented at Stormont press conferences and the weekly reports on the R number.
R is the number of people that one infected person will pass on a virus to, on average,
The Chief Scientific Advisor Prof Ian Young said the evidence bank will help inform discussion about the pandemic response.
'Loss of income'
Many businesses who have had to close their doors for four weeks asked to see evidence of how ministers reached their decisions.
The NI Executive's paper published on Tuesday says the closure of close contact businesses like hairdressers and beauticians will have a low impact on transmission with a potential reduction of the R number of 0.05.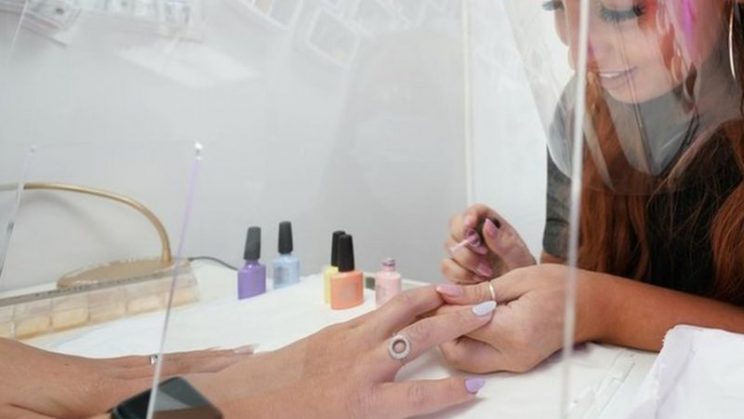 PA MEDIA
It also recognises this will have a high direct impact on staff who are losing their income which it says is "likely to disproportionately affect the poorest (and women) given employment in personal services".
The paper also says evidence suggests masks were effective in stopping transmission in a hairdressing salon, but that there was some evidence of transmission among hairdressers in the UK.
On outdoor dining, it says allowing customers to eat outside is "only likely to be much lower risk."
It cites a report produced by the Centre for Disease Control, the United States' health protection agency, which suggests those who test positive are twice as likely to have eaten in a restaurant.
It also says there will be "high indirect impacts" resulting from the loss of income of hospitality workers.
Mass school closures
The report notes the mass closure of schools would have a moderate impact on the R rated, of between 0.2 and 0.5.
It says the closure of secondary schools may be more effective than closing schools for younger pupils.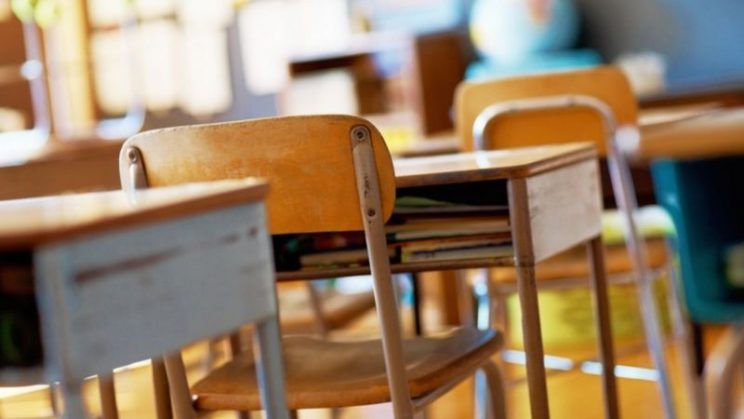 GETTY IMAGES
However, it notes mass closures would have an impact on the education and well-being of pupils.
It says such a measure could result in increases in domestic abuse, home accidents, and damage to child and adult mental health.
It also looks at other scenarios involving more limited school closures.
It states that school closures taking place in response to a positive case and measures involving pupils alternating a week in school and out of school would have less of an impact on reducing the R number – but also less detrimental side-effects.
'Low to moderate impact'
For the closure of places of worship, the report said that there would be a "low to moderate impact" with a potential reduction in the R number of up to 0.1, although it claimed a precise estimate would be "very difficult."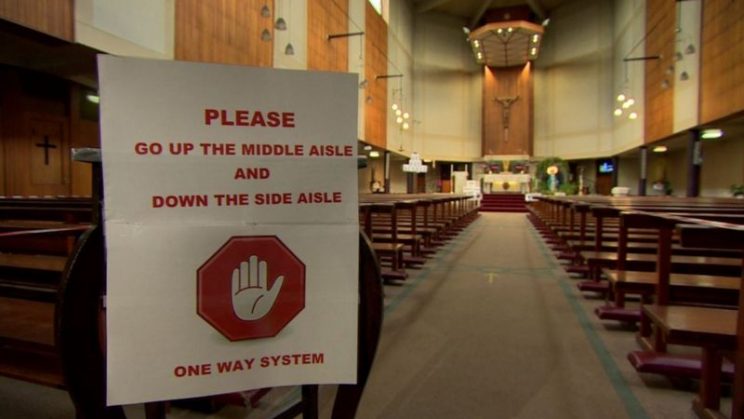 The evidence laid out points to risks varying depending on the size of the building and claims that singing or loud talking could also enhance risk.
The report also said these settings pose a high risk for vulnerable groups but that closing them could impact on mental health and could cause a sense of social division if places of worship closed before recreational venues.
It cites a need to avoid hampering the work of support networks associated with religious organisations and community centres like food banks and child contact centres.
Creative Commons Disclosure
This news story was published by BBC News. Click here to read the original article.
Why choose LearnPac E-Learning courses?
LearnPac Systems is a leading UK provider of accredited online training courses, programmes and qualifications including the following categories:
LearnPac Systems is a leading UK provider of accredited online training courses, programmes and qualifications. Contact our Support Team on 024 7610 0090 or via Email to discuss your online training requirements.
Coronavirus: Evidence behind NI's Covid-19 response published.