Apple launches Health Records in UK with Oxford and Milton Keynes.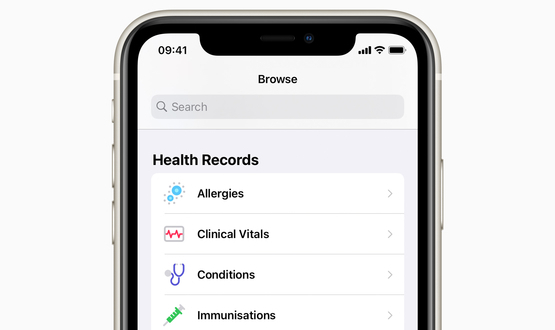 Apple has this week launched Health Records on the iPhone in the UK, with Oxford University Hospitals NHS FT and Milton Keynes University Hospital NHS FT the first to offer the feature to patients.
The feature enables users to securely view and store their medical records within the health app on their iPhone, linking records from multiple healthcare providers.
The move potentially puts UK citizens, or at least those who are Apple customers, in charge of curating their health record through giving them convenient access to their NHS history.
Health Records creates a direct connection between medical organisations and a patient's smartphone, providing users with one consolidated view of their allergies, conditions, immunisations, lab results, medications, and procedures. It also notifies a user when their data is updated.
At Oxford University Hospitals, patients who have been registered with the trust's "Health for Me" patient portal will have access to access Health Records. Registration on the patient portal is currently being rolled out by clinical speciality, starting with diabetes and renal.
Health Records utilises a direct, encrypted connection between a user's iPhone and the healthcare organisation. All data is encrypted and protected by the user's iPhone passcode, Touch ID, or Face ID. No health data traverses Apple's servers, the tech giant assured.
The feature also allows users to search for nearby healthcare institutions that have enabled the feature, starting with Oxford and Milton Keynes.
Apple said that over time, as more UK healthcare providers support the feature, Health Records will enable a user to bring together health data from hospitals, clinics, GPs and other organisations into one place.
Apple iPhone customers will also be able to choose whether they want to enable health apps to securely access portions of their Health Record.
In the US, more than 500 institutions now support Health Records on iPhone, listing more than 11,000 care locations.
"We designed Health Records on iPhone to empower people to easily view their health records at any time," said Kevin Lynch, Apple's vice president of technology.
"We believe people should have access to their health information in the most private and secure way, and we have worked for hand in hand with healthcare institutions and organisations to put privacy at the centre of the patient experience."
Lynch told Digital Health News: "We are using a standard API called FHIR, that's Fast Healthcare Interoperability Resources. Not a glamorous name but a great standard."
Use of FHIR enables standards-based integration with major electronic health record suppliers including Cerner, Epic, InterSystems and Allscripts.
"I think this a really important move to help people access their health data across multiple institutions in one place, and we are doing this with open standards," Lynch added.
Professor Joe Harrison, chief executive at Milton Keynes University Hospital NHS FT, said: "We continually hear from our patients that they want more autonomy over their health care – having access to their health records is the key part of this, so this is a momentous step forward."
Professor Sir Jonathan Montgomery, chair of Oxford University Hospital NHS FT, said it was an "exciting development" which provides a "more convenient option for patients to access their health records".
Matthew Gould, chief executive of NHSX, also welcomed the launch and said the NHS was committed to giving all patients access to their records.
"The launch of Health Records on iPhone in the UK is a positive step and joins a number of initiatives across the NHS to put patients in the driving seat," he said.
The NHS App, in recent months largely overshadowed by the NHS Covid-19 App, has also been developed to provide one national NHS app for patients to access their records and care plans, a commitment made in the Long Term Plan published in January 2019.
All GP practices in England have been required to give patients online access to their records since April 2020, with each of the main GP system providers providing patient access apps.
Creative Commons Disclosure
This news story was published by Digital Health. Click here to read the original article.
Why choose LearnPac E-Learning courses?
LearnPac Systems is a leading UK provider of accredited online training courses, programmes and qualifications including the following categories:
LearnPac Systems is a leading UK provider of accredited online training courses, programmes and qualifications. Contact our Support Team on 024 7610 0090 or via Email to discuss your online training requirements.
Apple launches Health Records in UK with Oxford and Milton Keynes.