New £11m programme to explore AI in lung cancer diagnosis.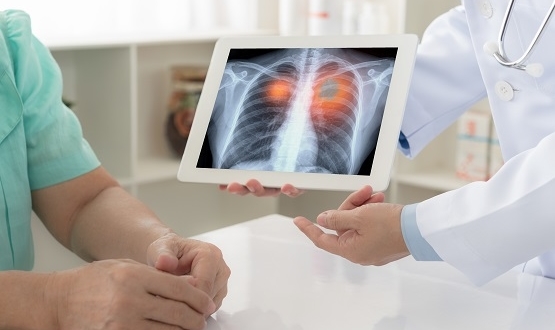 More than £11 million is set to be invested in an Oxford-led artificial intelligence programme to improve the diagnosis of lung cancer.
The funding, from UK Research and Innovation and Cancer Research UK, will be used to accelerate pathways for earlier diagnosis of the disease and other thoracic conditions.
A team of academics and clinicians from nine universities and NHS trusts will join forces with Roche Diagnostics, GE Healthcare, Optellum to deliver the research programme. They will be led by Professor Fergus Gleeson of the University of Oxford.
Working with the NHS England Lung Health Check programme, clinical, imaging and molecular data will be combined for the first time using AI algorithms with the aim of more accurately and quickly diagnosing and characterising lung cancer with fewer invasive clinical procedures.
Algorithms will be developed to better evaluate risks from comorbidities such as chronic obstructive pulmonary disease.
The programme will also link to data from primary care to better assess risk in the general population to identify at-risk patients to be selected for screening.
It is hoped that this research will define a new set of standards for lung cancer screening to increase the number of lung cancers diagnosed at an earlier stage when treatment is more likely to be successful.
Gleeson said: "The novel linking of diagnostic technologies, patient outcomes and biomarkers using AI has the potential to make a real difference to how people with suspected lung cancer are investigated.
"By differentiating between cancers and non-cancers more accurately based on the initial CT scan and blood tests, we hope to remove the delay and possible harm caused by repeat scans and further invasive tests.
"If successful, this has the potential to reduce patient anxiety and diagnose cancers earlier to improve survival and save the NHS money."
Lung cancer is the biggest cause of cancer death in the UK, costing the NHS £307m per year. But earlier diagnosis can improve life expectancy and reduce costs to the health service.
The programme builds on National Consortium of Intelligent Medical Imaging (NCIMI) at the Big Data Institute in Oxford, one of five UK AI Centres of Excellence.
The funding is part of more than £13m government investment in "data to early diagnosis and precision medicine" for the research, development and evaluation of integrated diagnostic solutions.
Science minister Amanda Solloway said: Our brilliant scientists and researchers in Oxford are harnessing world-leading technologies, like AI, to tackle some of the most complex and chronic diseases that we face.
"The University of Oxford project we are backing today will help ensure more lives are saved and improved by using state of the art technology to identify cancerous tumours in the lung earlier and more accurately."
The full list of universities and trusts involved in the programme are:
Oxford University
Nottingham University
Imperial College London
Oxford University Hospitals NHS Trust
Nottingham University Hospitals NHS Trust
Royal Marsden Hospital
Royal Brompton Hospital
University College London Hospitals NHS Foundation Trust
Roy Castle Lung Cancer Foundation
Creative Commons Disclosure
This news story was published by Digital Health. Click here to read the original article.
Why choose LearnPac E-Learning courses?
LearnPac Systems is a leading UK provider of accredited online training courses, programmes and qualifications including the following categories:
LearnPac Systems is a leading UK provider of accredited online training courses, programmes and qualifications. Contact our Support Team on 024 7610 0090 or via Email to discuss your online training requirements.
New £11m programme to explore AI in lung cancer diagnosis.