UK healthcare investment lower than other EU countries.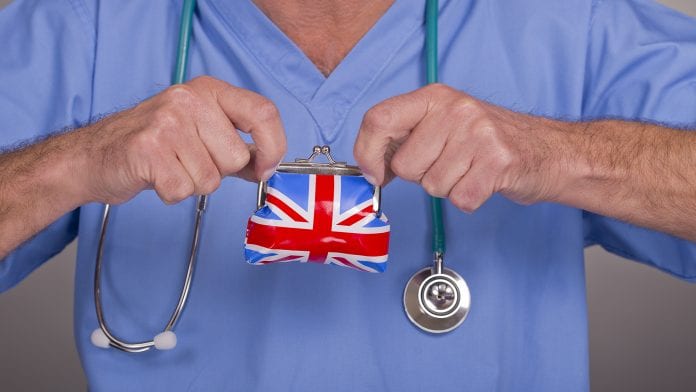 © iStock/JOHNGOMEZPIX
The UK is investing significantly less in healthcare capital than other EU countries according to new analysis from the Health Foundation.
The analysis shows that UK healthcare investment in capital – including buildings, equipment and IT – is much lower than other EU countries, meaning the total value of capital in healthcare in the UK has fallen.
The value of capital per healthcare worker in the UK – which provides an estimate of the resources available to staff to deliver care to patients – has fallen by 35% between 2000 and 2017, while many other countries have seen significant and sustained rises over the same period. Of the countries analysed, the value of capital per healthcare worker in the UK is the second-lowest, above Greece, and only just over half the average value.
Health equipment and machinery
The analysis also shows that the UK is investing less in equipment and machinery, which includes spending on medical technology, as a share of its total capital. While the Department of Health and Social Care has outlined a vision for a world-leading, tech-driven NHS, the UK was found to have the lowest value of machinery and equipment per healthcare worker, with countries such as Austria and Denmark having more than five times the value.
In 2017, the UK put just 36% of its total spending towards this area of investment compared to an average of 48% in the other countries.
The data raises questions about why the UK is lagging so far behind other countries but supports previous Health Foundation findings that the UK spends significantly less on healthcare capital as a share of GDP and that patient care is being compromised following years of underinvestment in the NHS's infrastructure.
For example, while the UK currently lags behind other countries for cancer survival, it has not invested adequately in new equipment such as CT and MRI scanners, and now has the lowest number of both CT and MRI scanners per capita among comparable countries – less than a third of those in Germany.
This suggests that recent announcements of funding to upgrade hospitals will not be enough to bring the UK in line the spending of Organisation for Economic Cooperation and Development (OECD) countries. While the health funding will be welcome news in the areas receiving the money, the Health Foundation has calculated that, for England alone, bringing overall funding in line with the average would require at least £2.5bn extra every year on top of the existing budget for 2019/20.
Financial backlogs
Data released last week revealed that the NHS in England's backlog of maintenance and repairs had increased by £400m over the last year and now totals £6.6bn.
The largest increase continues to be in the 'significant' or 'high' risk maintenance categories which need to be urgently addressed to maintain clinical services and protect patient safety. The high and significant risk maintenance backlogs rose by £38m and £253m respectively and now stand at £3.4bn in total, representing over half the total backlog.
Anita Charlesworth, Director of Research and Economics at the Health Foundation, said: "Healthcare capital investment has been in the spotlight recently with high-profile announcements of funding towards upgrading hospitals which the government has said will transform the NHS. While this is very much needed following years of underinvestment in the NHS's crumbling infrastructure, the reality is that this money will barely touch the sides.
"Our analysis shows the UK is trailing a long way behind our European neighbours in terms of the resources that enable doctors and nurses to deliver high quality, modern healthcare. Whether this results in hospital wards with leaks and broken windows, outdated IT or not having enough scanners to detect cancers earlier, this lack of investment ultimately threatens standards of care and patient safety."
Creative Commons Disclosure
This news story was published by Health Europa. Click here to see the original article.
Why choose LearnPac E-Learning courses?
LearnPac Systems is a leading UK provider of accredited online training courses, programmes and qualifications including the following categories:
LearnPac Systems is a leading UK provider of accredited online training courses, programmes and qualifications. Contact our Support Team on 024 7610 0090 or via Email to discuss your online training requirements.
UK healthcare investment lower than other EU countries.